From casino nights to holiday parties, Hawaiian luaus to western hoedowns, and Super Bowl Sunday celebrations to 1920s speakeasies, Jacksonville Party Company can create any theme you imagine.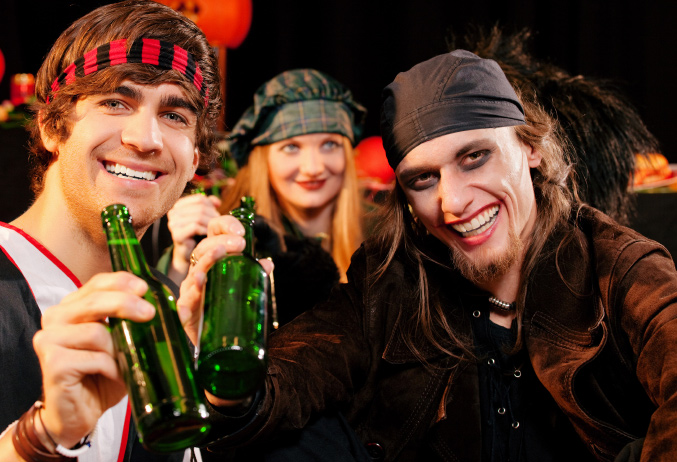 Featured Themes
With an extensive inventory of decorations, games and supplies, we assure you that we can make your dream event a reality. Our experienced team will assist you with concept development to turn your party into an unforgettable event. Jacksonville Party Company offers each customer personalized assistance with venue booking, event design, music and entertainment, catering and much more.
White Party
Essentially everything is white—tablecloths, chinaware, centerpieces, draping, chair covers, balloons, invitations, dress code, white LED lights, flowers, candles. Illumination décor can be used with bright white light. Accents can be added such as crystals, feathers, ribbons, paper lanterns, and ice sculptures. If client desires a "touch" of color added to white décor- use accents such as ribbons, centerpieces, flowers, chair cover detailing, etc.
Fire and Ice
LED furniture with blue/white lighting is used to create a chilled look. Frosty looking icicles hang from the ceiling, and stone archways can be used as an entryway. Centerpieces have blue/white lights and include a melting ice sculpture. Ice sculptures are placed around the venue (customized shapes can be chosen by client). LED snowflake designs are positioned across the ceiling/walls. Along the walls, flame burners and red lighting are used to create a fiery contrast. Bubble tubes can be added as an extra effect.
Rock Star
The main focus is the Hard Rock-style stage accompanying a full band. The words "Party Like a Rock Star" are written across the top center with painted guitars decorating either side of the stage. Guests enter on a red carpet lined with red velvet ropes. A giant electric guitar and over-sized music notes create the rock and roll vibe as you enter the venue. Decorations line the walls, including records, depictions of famous rock artists and a large quote saying "SHAKE IT, KICK IT, ROCK IT." Elvis impersonators can be used to create the Las Vegas Hard Rock theme or LED colored lighting can be used to create a rock star lounge theme.
Alice in Wonderland
The entrance is a low-lit path surrounded by trees, shrubbery and tall flower patches. You can catch a glimpse of the Cheshire cat and the Caterpillar as you walk across a smoke-filled path that leads you through a narrow archway. You are transferred into another world full of over-sized mushrooms, flowers, butterflies and teacups. LED lights of all colors fill the room to create a magical feel. Tables can be decorated with different themes: Mad Hatter, Queen of Hearts, Alice, the Cheshire Cat, the White Queen or the White Rabbit. The dance floor can be depicted as an over-sized chess table with pieces lining the edges. Cups and glasses have small tags attached reading "Drink Me." Scattered plates carrying colorfully-decorated desserts read "Eat Me." Over-sized watches, hearts, cards, butterflies, teacups and hats can be used as additional accent decor.
Exotic Rainforest/Jungle
Trees, plants, and flowers fill the venue, with the ceiling decorated as a forest canopy. Hanging light bulbs generate a glow throughout the room, and colorful LED lights add a more dramatic touch. A running waterfall creates the sound of the rainforest for the guests. Murals of jungle animals (such as lions, snakes, tigers, birds, and frogs) can be displayed as wall décor. Centerpieces include tall climbing vines and blossoming flowers. Oversized flowers and butterflies can be used as accents throughout room.
The Great Gatsby
String lights are hung, covering the entire ceiling. Traditional lamp posts and cobblestone paths can be used in the entryway. Buffet tables and guest tables are decorated in cream or white lace tablecloths. Black lace, satin, and large flowers are added along with pearls to create the roaring twenties glam look. Hospitality workers and guests are dressed in 1920's themed clothing. Plumes, pearls and feathers are used as accent decor. Large wooden barrels can add to the 1920's prohibition aesthetic.
Wizard of Oz
A yellow brick road leads the guests through the entrance. There is a depiction of the house that fell on the wicked witch of the East (only her slippers stick out). Once inside, guests will see tables that are decorated in emerald and gold to represent the Emerald City. The centerpieces are lit from below, creating a dramatic effect. There is a backdrop that depicts a city glowing bright green. Some tables can be decorated to represent each character (Dorothy, The Cowardly Lion, Tin Man, Scarecrow, The Wizard, The Wicked Witch of the West, Good Witch of the North or the Munchkins).
Kentucky Derby
Guests are required to dress in the appropriate derby attire, including an over-the-top hat for the ladies. Colorful flowers aligning white picket fences decorate the venue. Oversized hats and horseshoes can be hung from the ceiling, along with white string lights to light up the room. Tables can be decorated with miniature horse statues and plaid accents.
Old South
Guests are asked to dress in the appropriate Old South attire (Southern Belle dresses for the ladies). Lanterns, Spanish moss, long wooden tree limbs and small white flower vines are hung from the ceiling to create an outdoorsy feel. Mason jars, lanterns, pastel-colored flowers, lemons/limes and old-fashioned picture frames can be used as décor.
Pirate Party
Pirates of the Caribbean, Pirates of Penzance, Treasure Island, Raiders of the Seven Seas, or Shipwreck Island: skulls, swords and treasure chests filled with pearls and gold decorate the venue. Wooden crates and barrels along with pirate flags and crossbones are placed at the entrance, stage or along the walls. Rustic candles decorate the tables with centerpieces draped in pearls. Waterfalls and greenery can be used to create a shipwreck island theme. Invitations and party favors can be given as a "message in a bottle."
Under The Sea
A running waterfall and bubble tubes are included as entryway decorations, adding underwater sound. Around the room, colorful underwater creatures and plants along with a rippling water effect create the underwater feel. Bluish-purple LED lighting fills the entire room. The sunken remains of a ship can be added and pieces can be scattered throughout the venue along with netting, seashells and coral. LED tables and chairs can also be lit with blue/purple/white lighting to add to the glowing effect. Centerpiece option: large bowls filled with an assortment of underwater fish and small plants.
Masquerade Ball
Guests are required to wear masks to cover their faces and the lighting is low to create a mysterious atmosphere. The venue is decorated formally, with table settings customized to the client's preferences. Centerpieces are tall with elegant designs and chinaware is simple and sophisticated. LED and texturized lighting can be added for a more dramatic effect. Ice sculptures and illuminated bars are also an extra touch. Intricately-decorated masks can be placed on the tables, hanging from the ceiling or in various places around the room.
7 Deadly Sins
Wrath, greed, sloth, pride, lust, envy, and gluttony. The general décor for the 7 deadly sins theme is dark, mysterious lighting (using LED lights to accent each separate "sin"). The venue can be separated into separate "sins," each with their own décor. Wrath: Decorated with red LED lighting and fire flames. Use spikes, black leather, iron, and metal as accents. Greed: Diamonds and gold are used to represent this sin. Use a mixture of yellow and white LED lighting. Other accents: Clear glasses with floating gold specks, oversized diamonds, gold chains and pendants. Sloth: Plush couches, chairs, and pillows along with oversized cushions are spread throughout the area. Draping surrounds the area, creating a cozy feel. Pride: This area is completely filled with all different sizes of mirrors to represent pride. Lust: For adult parties, this area will be filled with lace and satin décor. Corsets, feather boas, and fishnet can be used as displays. Envy: The idea behind this area is "green with envy." Green LED lights create the atmosphere, with all green décor. Gluttony: This area will be where all of the food is served. The main bar is also in this area.
Midsummer Night's Dream/Enchanted Forest
Trees, plants and flowers cover the room, with colorful LED lighting to add to the magical feel. Over-sized butterflies, flowers and fairies are scattered throughout. Green, purple, pink, yellow and blue are good colors to use as accents. Climbing ivy entwines the centerpiece topped with full, colorful flowers. The ceiling is covered with strings of white lights and hanging flowers. Hanging lanterns or mason jars filled with moss and white lights (creating a firefly effect) can also be used.
Marie Antoinette
Theme colors for this party are white, pastel pink and gold. The 18th century atmosphere is depicted with arm chairs, framed mirrors and chandeliers. Lace fans and masks are placed around centerpieces. Soft white light fills the room from string lights covering the ceiling. Feather boas, pearls, crowns and roses in shades of pink are used as accents.
Bollywood
Very colorful, with an assortment of bright fabrics hanging from walls. Sequins and beaded detailing. Fabrics are draped from the ceiling creating a tented look. Indian-style pots and plants are spread throughout the room. Colorful carnations, daisies and roses can be used as centerpieces and flower petals spread across table. Draping beaded chains hung from gold vases. Hookahs, camels, arches and large plush pillow cushions are accents that can be included. Colorful LED lighting is used to create dramatic effect.
Medieval/Renaissance
Guests walk through a stone "castle" gate surrounded by fiery torches. Inside, the venue is decorated with knights in armor, decorated shields, swords, medieval banners, crowns and rustic candles. Old-fashioned chandeliers hang over the tables above a chalice filled with fruit and flowers entwined with green ivy vines. Colors are dark reds, browns, yellows and greens.
Illuminated
LED tables, chairs, centerpieces, bars and displays can be used with a variety of colors (including red, yellow, green, blue, orange, pink, purple, and white). Choose one specific color, a combination or a rotation of each color.
Luau
Palm trees, Hibiscus flowers, waterfalls and greenery are illuminated by colorful LED lighting to create a tropical feel. Beach and seascape backdrops can be used along the walls. Tables are surrounded by colorful chairs. Centerpiece option: Flower arrangement in clear bowl with colorful Beta fish in each. Beach balls, tiki torches, tiki statues, parrots, starfish and seashells can be used as accent decor. Hula dancers are used as entertainers during the event. Fruity drinks including piña coladas and strawberry daiquiris are served at the tropical bar.
1920's Speakeasy
Guests enter through a brick walkway with a metal speakeasy door, traditional lamp posts, and wooden barrels. The bar created from several large wooden barrels is stocked with "moonshine" mason jars and "bootleg" liquor bottles to represent the Prohibition. Filament bulbs hang from the ceiling above black and white dressed tables with centerpieces that include feather boas, pearls, and plumes. Sequins and frayed satin can be used to enhance the "flapper" style.
Around the World
Clients can choose specific countries they would like included in their party (including Mexico, United States, Spain, Canada, France, Japan, China, Germany, Ireland, Italy, Norway, Morocco, etc.). The general décor of the venue includes compasses, maps, old-fashioned suitcases, globes and colorful draping. The venue can be separated into different "countries," each including a specialty food and drink tasting.
Moulin Rouge
The venue is decorated with lace, pearls, sequins and feathers. Tables are dressed in simple solid colors, with tall centerpieces topped with large feathers. An assortment of colored LED lights fill the room, and entryways can be draped with silk fabrics. A stage may be used for entertainers and dancers. Feather boas can be used to drape the backs of the chairs. Gold-framed mirrors, vanity light bulbs and red carpets can be placed throughout the room.
Heaven and Hell
The entryway is separated into two separate archways. There is a post with two arrows pointing opposite directions: "Heaven" and "Hell." To one side, Heaven's archway is covered in white feathers and lit up with a soft white glow. To the opposite, Hell's archway is lit by red LED light, with fire flames on either side. Once inside, the room is split in half by a center dance floor. Heaven's side is decorated completely in white, with blue LED lights sporadically placed. There are ice sculptures, feathers, angel wings, and fluffy white clouds used as accents. On Hell's side, red, yellow, and orange LED light fills the room. There are melting ice sculptures on the tables, which are decorated mostly in black. Devil horns, fire and black accents are added throughout the room.
The Beatles
Over-sized flower cut outs, peace signs, etc. are displayed along with colorful LED lighting. Banners at strung across the ceiling with different Beatles lyrics. Texturized lighting throughout the venue creates a playful, colorful effect. Backdrops of The Beatles album covers line the walls. Tables are dressed with colorful solid colors, with album covers used as centerpieces. Entertainment can include a cover band playing songs by The Beatles.
Futuristic
Illuminated tables, chairs, bars and props fill the dark room with a futuristic glow. Strobe lights and black lights are placed along the dance floor area. White material is stretched along the walls, with dancers behind them so you can only see their silhouettes. Tables are dressed very simple, with solid fabrics and chinaware. Centerpiece options: Tall, clear tubes filled with water and submerged flowers, lit from below.
Roman/Greek
Guests walk between tall, classic columns into a room filled with Romanesque statuary, velvet drape, and antique looking depictions of warriors, battles and gods. Tables are centered with smaller pillars that are topped with bowls filled with grapes and green vines spilling over the side of the pillar. Green ivy vines climb across the walls and fiery torches light the room. Guests drink from chalices and eat off of silver dishes.