Have you ever wanted to have the thrill of Vegas-style action at your event, but don't want to deal with the hassle and expense of flying your group all the way to Nevada? Then have no fear: Jacksonville Party Company is here to save the day with their incredible Casino Night event!
With packages ranging from just 4 tables for small events up to 43 tables for huge fundraisers, the Casino Night from Jacksonville Party Company has the perfect solution to whatever size party you want to throw. They can even provide custom packages to fit any size event you have in mind, making your event the hit of the season with all your guests. With a variety of table games, slots, dice games, and even roulette, all manned by seasoned, professional dealers, your Casino Night event will go off without a hitch. Everything you could ever need to throw a party like this will be brought by Jacksonville Party Company.
When it comes to table games, Jacksonville Party Company can offer up to 43 tables, featuring a diverse offering of poker and blackjack to suit any taste. From three card stud to Texas hold 'em, your poker night will a hit for everyone involved. And don't be worried about having some flimsy plastic or fiberboard folding table with a skirt around it: the tables we bring are made of luxurious cherrywood with real wooden legs, so your guests actually get the feel of Las Vegas when they enter your event.
But let's say dice are more some peoples' game. Jacksonville Party Company can also include a professional, Vegas-quality craps table in their packages to satisfy the needs of those who choose to shoot for sevens as opposed to letting the cards fall in their favor. As with the table games, Jacksonville Party Company's craps tables are of the highest quality and aren't something simple that you would pick up at your local shopping center. At 11 feet by 5 feet, and high enough for everyone to stand around and play comfortably, these tables will elate all those that choose to play them.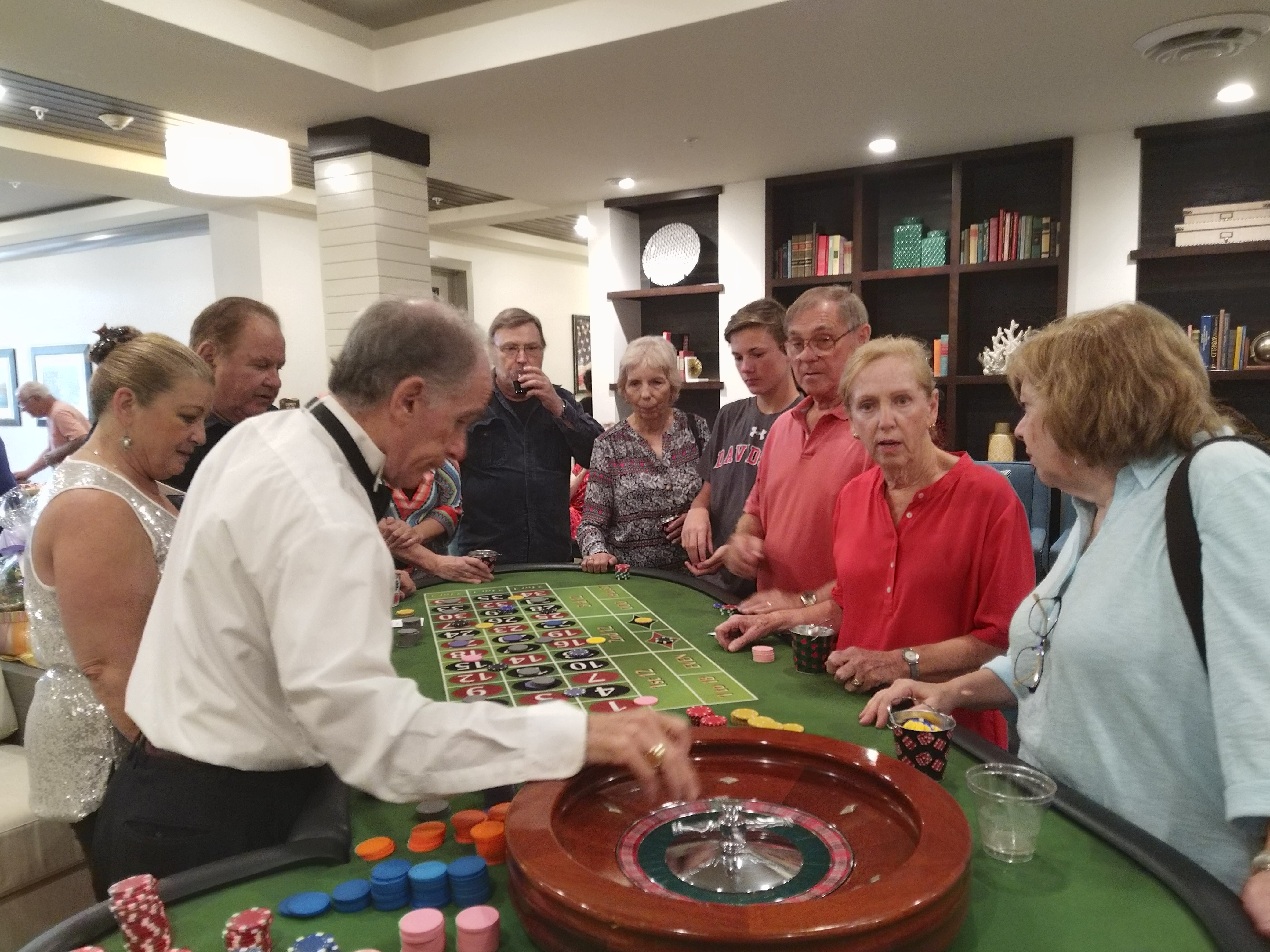 The roulette wheel is nothing to scoff at either. Featuring a full, 32 inch wheel akin to anything you'd find in a typical Las Vegas casino, Jacksonville Party Company's roulette table is not for the faint of heart or for those who don't want to bet. At a full 8 feet long by 3 and a ½ feet wide, our roulette table is large enough for plenty of your guests to stand around to gamble or just to stand and watch the action, growing ever more jealous while they do.
For those that are more geared to the one-armed bandit of the slot machine, Jacksonville Party Company is able to accommodate them easily. With a variety of machines, all acquired from real, working casinos, and offering up the most recent designs and games, our slots will easily fit the needs of those who want to either sit at one machine all night long or move from machine to machine until their luck strikes.
So what all do you need to provide? Simple. Between a mere 1050 square feet up 5575 for the largest party package, Jacksonville Party Company can fill any space just right. Seating is either something we can bring with us for an additional charge, but many of the venues that we frequent and highly recommend can easily supply enough seats for any number of guests that you're expecting.
Every party package designed by Jacksonville Party Company is pre-priced for 3 hours of card dealing along with a 1 hour setup and delivery time. If you'd like a party longer than 3 hours, that can easily be arranged and accommodated for with an additional fee. Our dealers will show up to the venue, fully dressed in tuxedos like proper dealers should, 30 minutes before the event starts so they're set and ready to go when it comes time. At the end of playing time, there's also a 30 minute period people will "cash out" and trade their chips in for raffle tickets at the table their at. While it's not necessary for you to provide prizes people can win, it is highly recommended as a Casino Night event where no one can win anything at all can leave guests with a bad taste in their mouths. In case you want to give your guests the thrill of not going home empty handed, we can easily have our "pit boss" run a raffle giveaway or you're more than welcome to handle the emcee duties yourself. Either way, if you do choose to do a raffle, the tickets can be provided by us free of charge.
So if you have an upcoming fundraising event and you want to have the most interactive and exciting experience possible for both you and your guests, go ahead and book a Casino Night package from the Jacksonville Party Company. You can bet it'll be a great event!