All Inclusive Ideas with Venues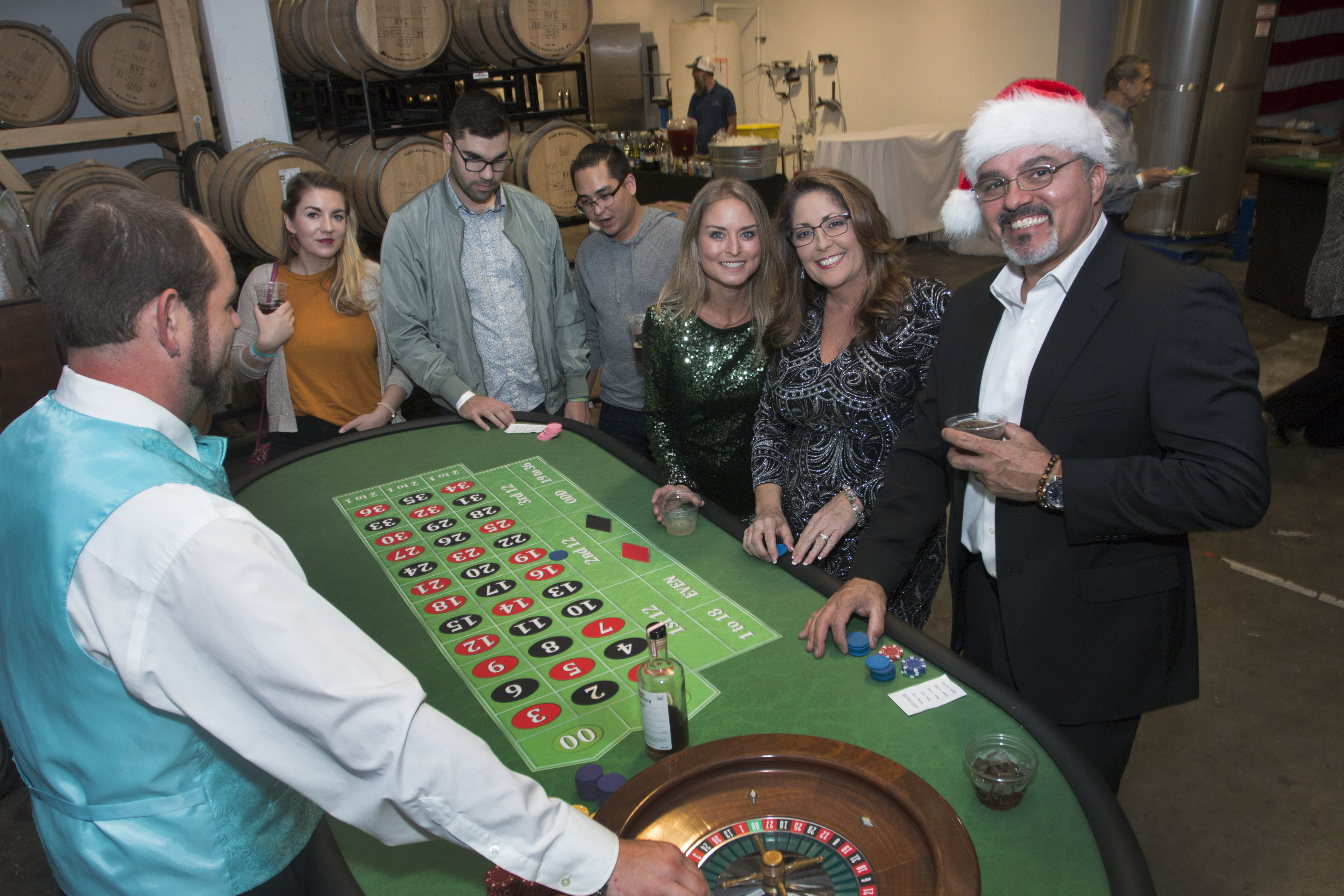 Craft Cocktails, Casinos and Catering
The Venue:
MANIFEST DISTILLING is Downtown Jacksonville's only full-scale organic distillery, located in the heart of the Sports District next to Intuition Ale Works, The Jaguars Stadium, The
Veteran's Memorial Arena and The Baseball Grounds of Jacksonville.
Located in the heart of the Doro District of downtown Jacksonville, Manifest Distilling is Northeast Florida's premier event space. The distillery's 9,000 square foot space boasts a sleek, upscale design and consists of three versatile spaces under one roof: the bar, the tasting room and the distillery. Each space connects with rolling glass doors allowing for a range of private or semi-private events.
Manifest Distilling is a upscale venue to host an intimate gathering, a corporate event, or a large function, such as a Bachelor Party, Themed Event, wedding or holiday party.
Specific capacity varies depending on which distillery space you are looking to host your event in. Our maximum capacity for the entire distillery in 167 people.
The Tasting Room provides the perfect setting for an intimate dinner party, business meeting or distillery tasting. This space can be used as a private room and is equipped
with a 55″ television and Apple TV connector. (30 Person Max).
The Bar offers a beautiful aesthetic that is every bit modern as it is chic. The built-in marble bar, polished concrete floors, vaulted ceilings and custom shelving make this area a unique space to host a cocktail hour, tailgating event or corporate fundraiser. (60 Person Max)
The Distillery is an open industrial space that offers vaulted ceilings, large windows and is home to Manifest's custom copper and steel equipment. Adorned with cafe lights and barrel-filled walls, this room provides a welcoming environment with picture perfect backdrops and plenty of room to make the space uniquely yours (167 Person Max) .
Party for 60 people
The Craft Cocktails
Potato Vodka – 2 bottles
Citrus Vodka – 2 bottles
Gin – 1 Bottle
Fernet Manifesto – 1 Bottle
Rye Whiskey – 2 Bottles
Mixers
Staffing
The Catering
Mini Crab Cakes with Grain Mustard Dipping Sauce
Apple Walnut Tartlets with Cheddar
Charcuterie/Crudite/Dip/Pinwheel Display
Pimento Cheese Deviled Eggs
Smokes Salmon Canape
Caprese Salad with a Balsamic Reduction
Disposable Servingware
The Casinos
2 blackjack
1 craps
1 roulette
1 paigow poker
3 slots
Marquee Casino Decor Package
Red Carpet and Stanchions
Total Party Cost $5500
Betting, Brewery and Beer for 100
The Venue:
Anheuser Busch Brewery is located in the First Coast region of Northeast Florida, the palm trees and sunny atrium are a reminder that you are only a short drive away from the Jacksonville beaches along the adjacent Atlantic coast.
Construction of the brewery began in 1960 and was completed in 1969. The Brewery offers ample parking for any event in it's 60,750 square foot parking lot.
While guests are not permitted inside production areas, you are able to see each stage of the brewing process. There is a great view of the bottling machinery on the production floor as it produces case after case of Anheuser-Busch beers. Four hospitality areas of the brewery are now available for rent for your next party.
For a memorable experience that your guests will talk about for years to
come, there's no venue like the Budweiser Brewery in Jacksonville, FL.
Host your next corporate meeting, celebrate your wedding, organize a
family reunion, or cap off your next community event with a happy
hour. No matter what event you're hosting, the Tap Room is the place for you.
Table capacity: 27
In room capacity: 183
Food allowed
The Beer
Enjoy open bar with a variety of Anheuser Busch products including Budweiser, Bud Light, Bud Light Platinum, Bud Light Apple, Michelob, Rolling Rock, Busch, Shock Top, Natural, Goose Island, Blue Point, Landshark, Rita's and More.
Staffing
The Catering
Mini Crab Cakes with Grain Mustard Dipping Sauce
Apple Walnut Tartlets with Cheddar
Charcuterie/Crudite/Dip/Pinwheel Display
Pimento Cheese Deviled Eggs
Smokes Salmon Canape
Caprese Salad with a Balsamic Reduction
Disposable Servingware
The Casinos
3 blackjack
1 craps
2 roulette
1 paigow poker
4 slots
Marquee Casino Decor Package
Red Carpet and Stanchions
Total Party Cost $6750